Nelion (5188m) - South East Face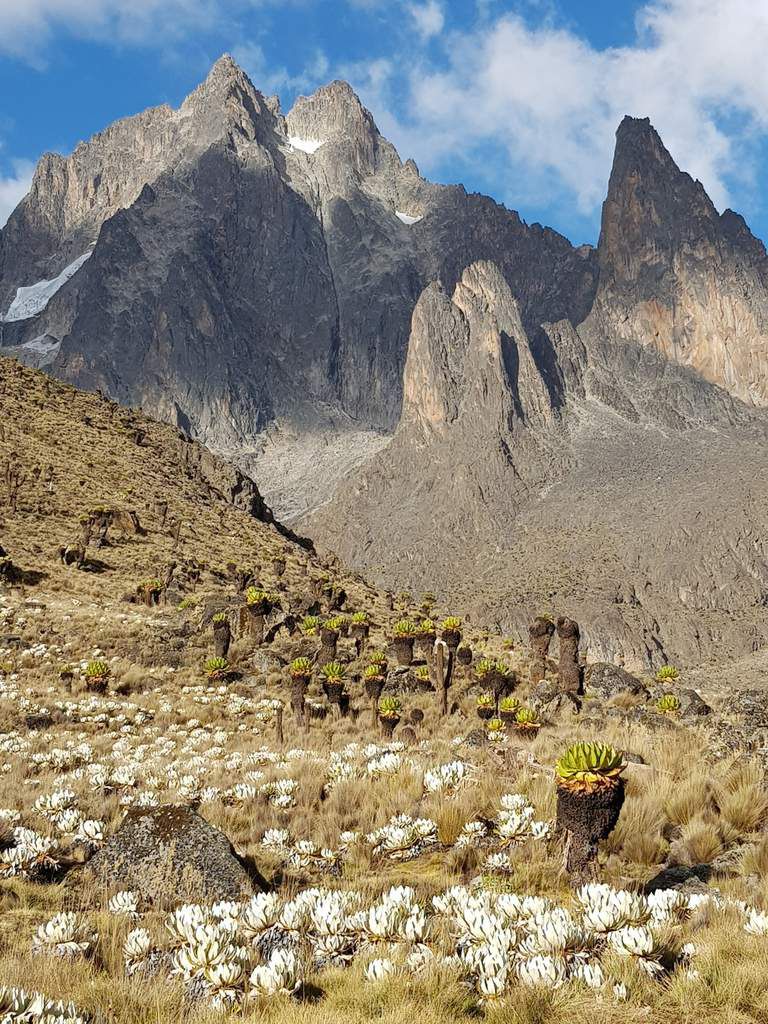 ... OR HOW TO CLIMB MOUNT KENYA WITH A VIETNAM WAR U.S. VETERAN
October 2018 - Feeling slowly up-to-speed after various diseases earlier in the year, I need a project to get some motivation for the upcoming year. A post on camptocamp.org about a climb on Mount Kenya comes right on time: this summit has been stuck somewhere in mind for quite a while and stands quite high on my To-Do-List. Known as the "Matterhorn of Africa", it is definitely the place to be if you want to go for some mountaineering in Africa, in other words in remote location, at fairly high altitude and with all African related challenges (logistic, sicknesses....)
Remains the question of the unknown climbing partner...hum... the internet is the reflect of our society, giving the best at some time and the worse the minute after. So, it is like throwing a coin or gambling in Vegas: no clue what you gonna get but you should try otherwise you will never win
December 2018 - The team is finalized: one french speaking Swiss guy coming by bike from Shangai, a French guy and myself. Plan is for me to climb with the Swiss guy while the French guy wants to hire a local guide
February 2019 - Now reality comes true. Back in Africa for the 5th time, the car that was due to pick us up comes with 2 hours delay, take it easy, you're no longer in Europe (saying that, much better than in Bamako where I'd been waiting the bus for 10 hours !!!). Day 1: night at Park entrance (3000m), Day 2: night at Lake Ellis (3500m), Day 3: night at Lake Michaelson (3900m). The next day we move straight up to Austria Hut (4790m). I was a bit skeptical about such significant step and indeed the next morning I got sick, pukking ... and pukking...
No other choice but going down, a porter helps and accompanies me down to McKInder's Camp (4300m) where I can get a rest. The other 2 guys remain up. At McKinder I meet Rob, a US guy living in South Africa, taking a resting day for acclimatization. Thanks Rob and his cool climbing small talks, the body quickly recovers. Out of nowhere, he then gets a look at me and tells me: "You know, next week it'll be 50 years that the U.S. Army had sent me to the Vietnam war". The late afternoon deals then more with his friend shot dead there, the U.S Army burning the jungle with Napalm and the Vietcongs buildings some subterraneous hospitals. In comparison, we're born at the right time, right place. Lucky us...
Shortly before dinner, a local porter comes to me and gives me a letter. "That's from your "friends" up there". Very surprised, I start reading: "bla bla bla... we don't know each other very well... bla bla bla... I have little trust in you... bla bla bla... I prefer going with Laurent and the local guide". It feels like "Shoot you in the back" as the Motörhead song and makes me very angry. While I can understand the guy having some doubt about someone being sick in the mountain (saying that, Alex Honnold went to Mount Kenya and was reported sick too :), I don't have much understanding nor forgiveness for someone who doesn't tell me that face-to-face.
One can not build a strong rope-team within 2 weeks, so in the end, it is all about the degree of confidence and trust you put in the other guy you're climbing with. This degree was close to zero on his side, I knew, I am not meeting an alpinist but had the feeling the guy is tough enough (if he's been cycling all the way down from China to Kenya) so that I can lead all the climb and he would follow
Endless thoughts... I need a back-up plan. The jerk wrote in his email, I could go climbing with the local mountain guide after their ascent but - beyond any financial consideration - either I do it by myself and I deserve the mountain or I skip it. For such mountaineering / alpine climb, the choices and decisions you have to take during the climb are as important as the way you climb. So, there is no way for me hiring a local mountain guide. Such ethical considerations do not help me much and I'm back to square one - especially as Rob has planned to climb Nelion with a South African friend working as mountain guide here.
I still believe, the action is over there and I should go back up to Austrian Hut, I may get a better chance finding someone to share my rope with. So the next morning, I walk with Rob towards Austrian Hut, followed by a short hike to Point Lenana (4985m) to fill in the afternoon and optimize our acclimatization.
Rob waits for his mountain guide to get back from Nelion to finalize his gear and his plans for tomorrow. One can feel the pressure increasing as it is always the case before a big ascent. I am still without climbing partner but I feel Rob getting nervous as his guide does not come down. I start joking with him: "You know my friend, maybe tomorrow you have to climb with me :)" and Rob to answer straight: "Do you have some gears?"..."Should have... I assume the other guys haven't taken the gears with them as they climb with a mountain guide... I'll just check in the tents and let you know"
What a surprise and a disappointment when I realize that they have left some gears in the tent but they are in a bag that is fully locked-in. I'm really wondering what these bastards have in their brains (or what they don't have). Even the food that I brought from Europe for the summit day is in this fuc*** bag. That makes me really crazy as I think about the sausage that Anna gave me when we left each other at Julierpass. Damned !!!
Anyway, I'm still stuck and things do not seem to improve. At least, let's hope that Rob can climb tomorrow and he reach the summit. Finally around 6pm, the mountain guide and her client comes down and we go and meet them at Lewis Glacier junction. When he sees me with Rob, his first reaction is: "Hi Rob, do you want to climb with him? I'm fully exhausted after this long day. I'd rather have a rest tomorrow"
Rob to answer: "For sure we can climb together. But we have an issue: we have too little gear, only two cams..."
The mountain guide - as in an happy ending U.S. movie - replied us, he has left all his gear including cams & ropes at the base of the wall and we can use it tomorrow ! Now the way is free and the show can start
I don't know Rob for more than 36 hours, never climbed with a 70 years old guy and just decided to go to Mount Kenya with him. Maybe risky but looking through the rearview, my best climbing buddies - namely Ruedi Hutter, Rainer Winklemann, Thomas Good - are all above 55 years all and it perfectly works. All in all, a good climbing match is more about the way you live and experience the mountain and the climbing rather than whether your partner is as old as you...
Just before going to bed, a bit anxious, I ask though: "Just out of curiosity, which grade do you climb?"
Rob to answer: "In my sixties, I still climbed a French 7a"
OK, fair enough... Next day, wake up at 5am, after a short breakfast, we start walking around 5.30 and the south african guide is very keen to guide us until the end of Lewis glacier. We reach the base about 6.15 and find the Pandora box with the rope and all cams ! With 8 cams on the harness, we can start to rock N' roll... In order to give some momentum to the climb, I start with the same pace as I would go climbing Weissmies North Ridge with the target being back at Hohsaas for lunch time to get a Rösti & Weissbier. Unfortunately what works fairly well at around 3500m, doesn't work around 5000m and we feel both fairly sick before reaching Baily Bivy at half way of the climb. I think internally, our only chance to get to the top, is to reduce our pace. Otherwise it will get critical. Doing so, we reach the summit of Nelion at 12.00. The long descent brings us back at 3pm at the base, finally back around 4 / 4.30pm at Austrian Hut
Rob is almost disappointed from his climb: "I wished, I would have been less sick of the altitude and enjoyed more the climb"
I am exhausted too - and just thinking about the great day and the serious climb we did comparable to Rothorngrat at Zinalrothorrn at higher altitude and in much remote location, only the following words come out of me:
"Congratulation Mr. Sprouse ! I wish, I'd be as fit as you are when I'll be in 70 !"